What we learned from the Louis Theroux Tiger King documentary
When I heard that there was another documentary focusing on the 'Tiger King' Joe Exotic, all I could think was how bored I am of hearing about this story. And yet, it seems almost poetic that lockdown started with Joe Exotic and now it will end with him.
Released at the very beginning of lockdown, Netflix's Tiger King was primed for huge success and has seen its subjects become major celebrities, spawning countless Halloween costumes and even an appearance on Dancing with the Stars.
But long before Tiger King, BBC documentarian and everyone's favourite brazen interviewer, Louis Theroux, featured Joe Exotic in one of his programmes about keeping dangerous pets. The programme was broadcast by the BBC in 2011, long before Exotic was convicted of 17 federal charges of animal abuse and two counts of attempted murder for hire. It's the scenes from that original programme that inform a lot of Louis' latest documentary and how he himself couldn't see what was to come.
1. Everyone interviewed in Tiger King signed exclusive contracts with its producers
At one point in the documentary, Theroux says he has received a letter from the law firm of Tiger King's producers Royal Goode Productions, saying that he cannot interview anyone that had signed exclusive contracts with them. The letter reads: "We are writing to point out that the participation of any of these individuals in your programme would violate their exclusive agreements with RGP, and put you in the position of liable for tortious interference with contract."
Theroux was understandably annoyed by this and made numerous efforts to avoid a lawsuit, including blurring one of Exotic's lawyers, who said he did not sign an exclusive contract, when discussing the situation.
About the letter, which also threated 'possibly millions in punitive damage', Theroux said: "I don't know what that is, but it doesn't sound good."
2. Joe Exotic was caught trying to hire a hitman who turned out to be an undercover FBI agent


While the Tiger King documentary made a good case for Exotic's innocence, in previously unseen footage from Theroux's 2011 documentary, Exotic is seen describing Carole as a 'psychotic woman', a 'domestic terrorist' and 'the prime suspect in her husband's disappearance'. He told Theroux: "I can't keep my park going as long as this bitch is around."
Theroux also shows footage of Exotic, who believed he wasn't being recorded, looking at and describing hitmen online who would be willing to kill Baskin.
It was later revealed in a voiceover from Theroux that Exotic had actually been caught by an undercover FBI agent posing as a hitman. While Exotic's lawyers say that the conversation was not serious, evidence presented in court says that Exotic offered the agent $100,000 to kill Carole Baskin.


3. Carole Baskin and her husband Howard now own what was once Joe Exotic's zoo


In a lawsuit between Baskin's Big Cat Rescue Corporation and the Greater WynneWood Development Group, LLC, the company Joe Exotic once owned, the Baskins have been granted ownership of the zoo.
Jeff Lowe, who became the owner of the zoo prior to Exotic's incarceration, did not challenge the lawsuit. His lawyer stated at the time: "We anticipated Carol Baskin getting the title to the former park that once belonged to Joe Exotic, and we did not challenge her attempts to do so."
Since acquiring the zoo, all of Exotic's previous animals have been transferred to various sanctuaries across the country.
4. Carole Baskin received thousands of death threats, including phone calls, after the Tiger King documentary
In a tour of what was one Joe Exotic's zoo, the Baskins showed Theroux the numerous insults and threats written on walls all around the park, left by its previous owner and employees.
Howard Baskin also played numerous phone calls the couple had received from viewers of the previous documentary, including one who said: "Fuck you Carole Baskin, I want to put a fucking bullet between your eyes."
Baskin later said: "When we got through watching Tiger King, my phone rang every two minutes for the next three months and it was people screaming obscenities."


5. Joe Exotic's family aren't his greatest supporters
Unlike Tiger King, Theroux's documentary spoke to the family of Joe Exotic, including his niece, who shared family photos and her own experiences of working at the zoo, and his oldest brother, who had previously refused to appear in any interviews regarding Exotic.
Chelsea Putman, the daughter of Exotic's sister, said that he began to change when he realised he could "make a quick buck" from his animals and began to think he was "above the law".
Theroux actually delved into more of Exotic's past, including his accusations that he had been molested by a family member as a child. His older brother Uri, and his wife, alleged that Exotic was lying about these experiences: "He made that up. We didn't even know where kids came from until we were in high school... He's a liar... It's just another deal to make everybody feel sorry for Joe."
The couple also blamed Exotic for their estrangement from Uri's parents after the death of Exotic and Uri's brother. The two said they wanted to open a soccer field with their late brother's money, but Exotic said that his brother wanted to build the zoo, which was later named after him.
Uri told Theroux that he had destroyed all images of Exotic and said: "I hate that little son of a bitch" He later added: "Greed made Joe what Joe is."
6. Footage shows that Joe Exotic treated his animals far worse than was shown in the original documentary
Theroux's documentary seemed to cover more on the animal abuse inflicted by Exotic and others who breed tigers in captivity, focusing on the cub-petting experiences sold by the zoo, which saw days old tiger cubs separated from their mothers.
Exotic's niece also described how she unwittingly helped to forge vet certificates so that he could travel from state-to-state with his animals without them having official health checks.
In footage previously filmed by Theroux, Exotic said he would rather have all of his animals euthanised than be cared for by someone else. In scenes shown later in the documentary, Theroux and Carole Baskin find animal bones where a fire had clearly been lit on the zoo's property.


7. There is going to be a second season of Tiger King
If you didn't know already, the exclusive contracts fiasco made one thing entirely clear: there will be a second season of Tiger King. This season is supposed to focus on Joe Exotic making his return in an attempt to clear his name. Baskin has stated she will not appear in the second season but other employees interviewed in the first season, such as John Reinke, have announced that they will be appearing in the series that is set to air in late 2021.


Final thoughts
One thing made clear in Theroux's documentary is how the majority of us were taken in by this incredible story of a wacky zoo owner being charged with murder for hire against a woman who supposedly killed her husband. The story, its larger than life characters, and the storytelling by its producers created a whirlwind of memes, costumes and highly referenced quotes ("I'm never going to financially recover from this." anyone?).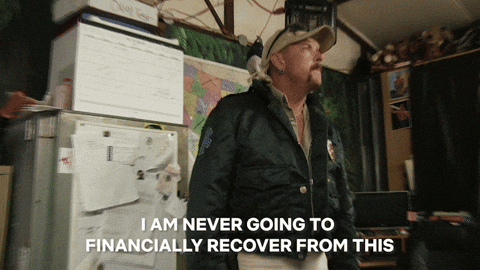 The first series of Tiger King came at the perfect time, when millions of us sat at home looking for something to watch. With lockdowns easing in many parts of the world, it'll be interesting to see how many watch the second season, but if you do, I'd recommend you take everything with a grain of salt.
Watch the Louis Theroux documentary on BBC iPlayer.